You can now search for IKEA products using an image
How does it work?
Upload an image of a piece or combination of furniture
Your privacy is really important for us! Please, do not upload images with people.
View results of similar or different products
The products that will appear in the results list will be either similar or different.
Discover the same or similar products to what you are looking for
You can now find any IKEA product you are looking for easily and quickly using our image search function
Supports JPEG, PNG files up to 5MB
Nothing more, nothing less – A minimal approach
Nothing more, nothing less – A minimal approach
The stress of the city had this couple longing for a slower, simpler and more conscious life – even before their baby came along. And while becoming parents turned their world upside down, they discovered that it didn't have to change how they wanted to live. Their cosy little apartment embodies lived-in simplicity: furnished only with things that this new little family needs and loves. Best of all, at a surprisingly low price too.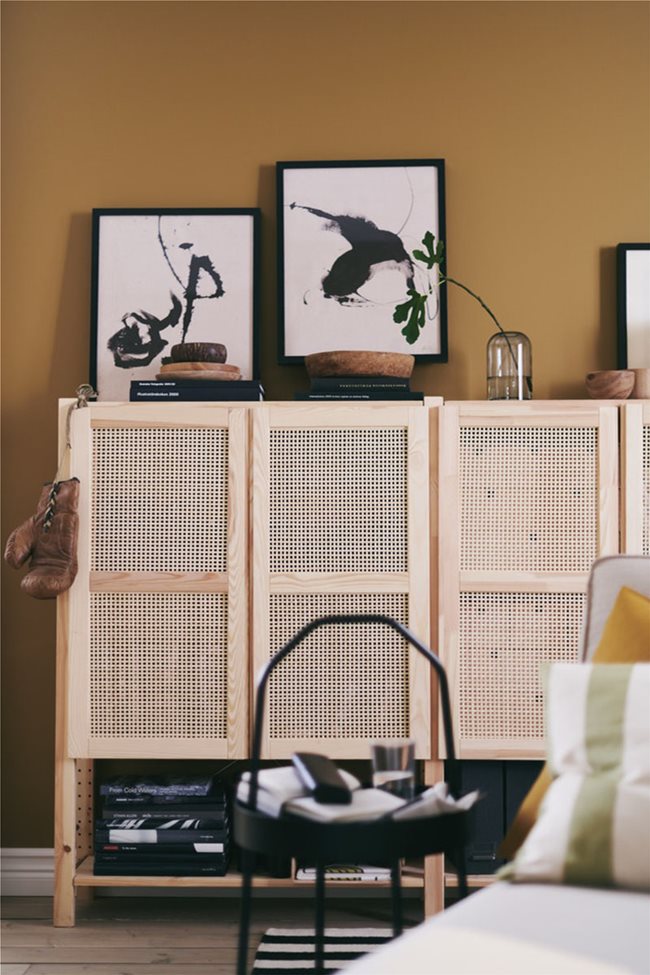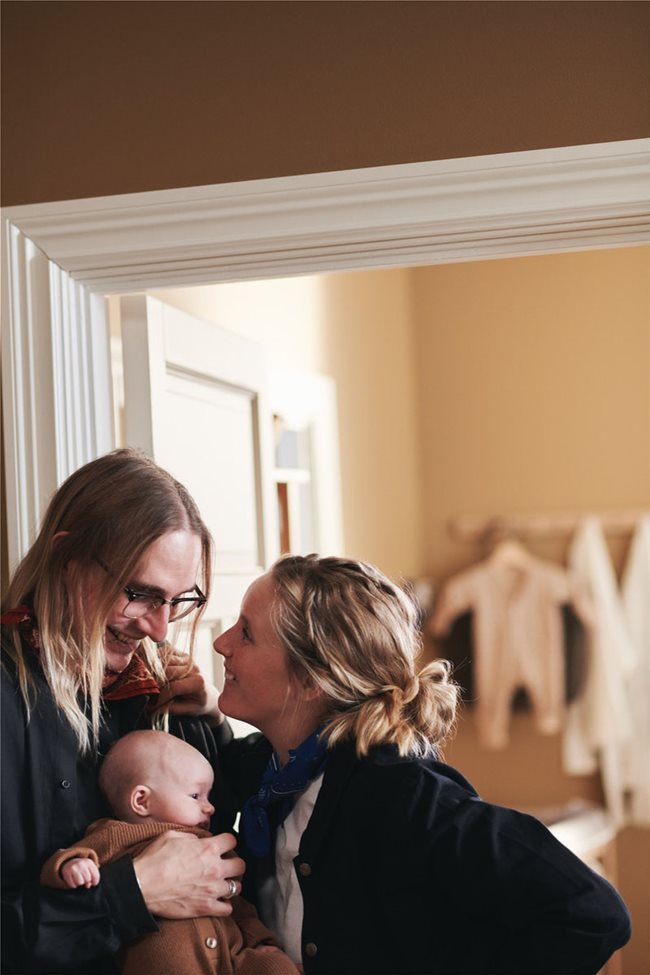 Τimeless furniture pieces
Every item in their home was picked with a long-term view in mind – both timeless design that they'll love forever, and durable quality that will last for years and years. Natural materials like wood, bamboo and cotton from more sustainable sources are woven in throughout, giving their home a calm and tactile feel.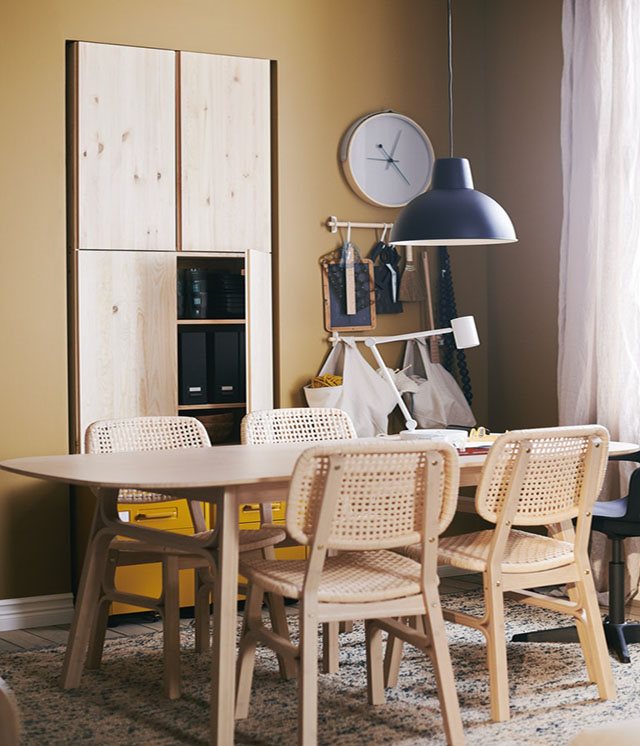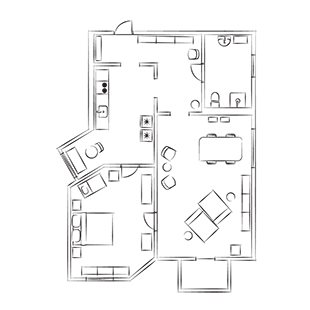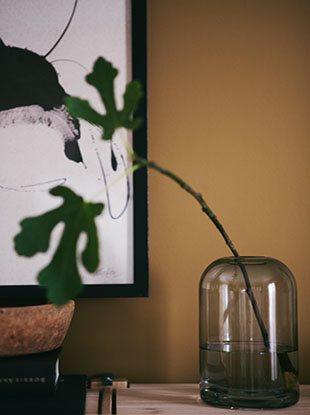 If only babies came with instruction manuals! See how this couple is adapting to their new lives as parents, doing their best to squeeze in their own naps and feeds in between baby's.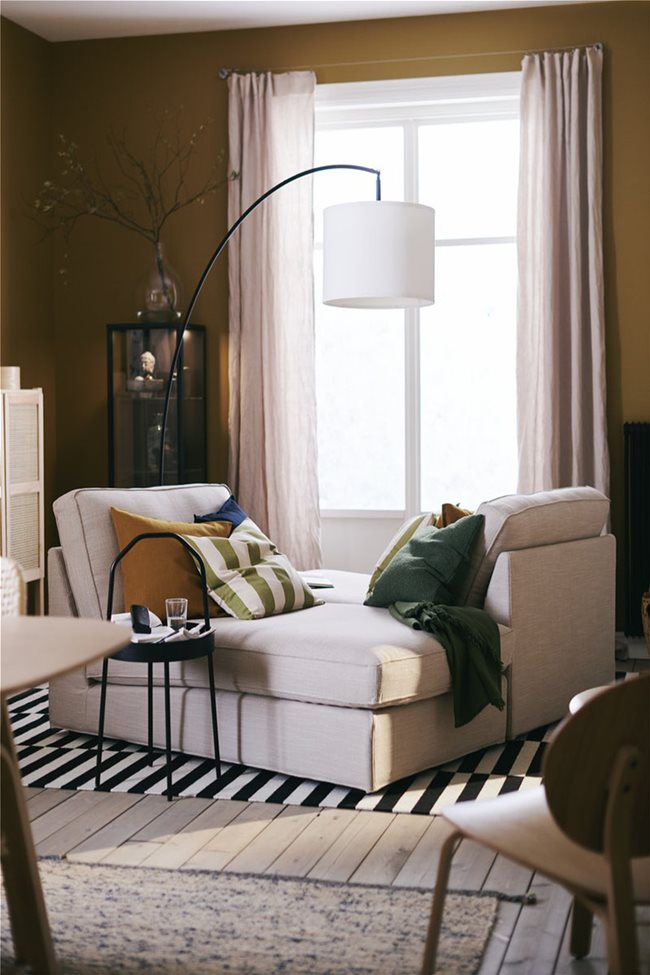 "Instead of a regular sofa, this couple chose two chaise longues, side by side. It's such a comfy spot to cuddle, or curl up for an afternoon nap".
Hans Blomquist
Interior designer
Little, big moments even in the kitchen
From baby's first giggles to a quiet cup of tea, it's those small, fleeting moments in life that are worth making time for. Easier said than done when you're a new parent, right? Thankfully, with ready-made snacks and prepped ingredients always in stock, their ultra-organised kitchen helps them save precious minutes for what really matters.
Bedroom - Peace and tranquillity
Even if sleep patterns have shifted since the arrival of a certain tiny roommate, the principles of comfort and calmness still hold true in this bedroom. Soft-on-the-skin cotton bedding and uncluttered storage lay the foundation of this dreamy, shared sleep space.
Essential furnishings for a kid's bedroom
What do you really need to welcome a new-born? This couple's verdict: not much! The baby's corner of the bedroom is equipped with only the essential furnishings. Every item is made from quality materials, in ageless colours and with versatility that will see their little one into toddlerhood and beyond.
Bathroom: Where laundry meets serenity
One of the great mysteries of life: how adding one extra, tiny human can seemingly double the laundry! Two generous baskets take care of the extra load, made from solid poplar that ties in with the bathroom's other pieces in birch and bamboo.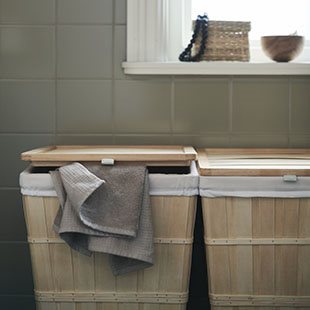 Maintenance of an organized and tidy home
So, you've managed to pare back your life and home – but now how to keep it that way? This family's "front-door philosophy" never lets them down: for everything new that comes through their front door, they have to give one thing away. The result? No clutter – great for their wellbeing, and their bank balance too. For more tips on creating a minimal (but liveable!) home, interior designer Hans Blomquist has plenty of wisdom to share.
Do you need some help?